Branding guidelines are a set of instructions that a company can put up for general view or sent to a designer if they want to use their logo. A brand history can list it's history, vision and it's personality. They can also include restrictions. The most common restrictions would be to not distort the logo in any way and to keep the logo facing a certain way.
Every company will have a branding guideline and these can be minimal or in depth depending on how the company thinks their image will be used.
Twitter
Twitter being one of the most influential social medias surprisingly has a minimal guideline.
The Basics:
Only show the logo in Twitter blue or white
Don't alter, rotate, or modify the logo.
Don't animate the logo or make it talk, chirp or fly.
Don't use previous versions of the logo.
Twitter has designed it's logo multiple times to get to where it is now but using an old version of there logo is not allowed by the company. This could be due to the message the old logos have the most discussed would be how the older versions are more cartoon like so they give off a childlike atmosphere.
Larry the bird has become an icon of our generation and from the image you can see how the Twitter logo has evolved into what it is today.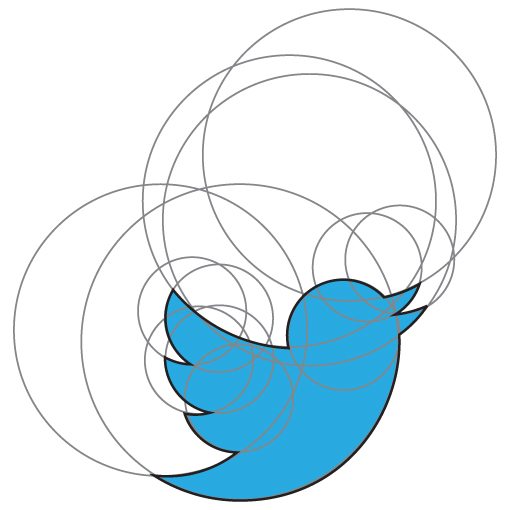 Twitter have also been open about how they created the most recent logo. Using overlapping circles they managed to form an organic symbol.
Clear Space and Minimum size.
This is to describe how a logo is to be used in conjunction with other work. In Twitters case it is specified that it should be at least 150% of the width of the logo. Downsizing a logo is vital because as well as getting a logo to fit a billboard you might need it to fit onto a thin pencil so for Twitter 16 px (Pixels) is the smallest that the logo can be downsized before it would become unrecognisable.
Colour 
Colour can make or break a logo. Brand guidelines give you very important instructions on colour this can either be with CMYK colour codes, Hexadecimal colour chart or Pantone.
Hexadecimal colour chart is the best version of this because it is made for displaying colours on web.
Twitter uses the colour #1DA1f2 as it's primary blue colour.
The only exception to colour within branding is that it is recommended to have a flat black print version for publications like the yellow pages, who only print in black.
Fonts.
Fonts can also be used alongside logos within design so these in turn would have to be included in a guideline. For Twitter the fonts that are specified are Helvetica Neue Pro, used for the @Username and #Hashtag. Tweet Treatments they use Helvetica Neue Pro 75 Bold for the name, the Tweet itself, and timestamp, and Helvetica Neue Pro 55 Roman for the @Username.
Using a font that is more openly available is always easier for designers because a font can be very expensive.
I Heart NY.
I Heart NY brand guidelines are far more in depth than Twitter having 60 pages of information. Within these 60 pages it goes into far more detail even with the history and breakdown of the logo itself, there brand pyramid, values, target, manifesto and much more.
Depending on how you think your brand will be used depends on how much information you think appropriate to hand over to your reader.
The three fonts used within I Heart NY are:
Archer – described by the company as the colourful slab serif,
Gotham – "What letters look like"
American Typewritter – "More practical alternative"
The company also give a lot of background behind the font and why it should be used.
Channel 4
Channel 4 had a big rebranding in 2016 that was exhibited at the Design Museum in London. The elements within the branding guidelines for a TV channel can go into more visual depth because they have to think about animation.
The new Channel 4 branding has a statement background with moving blocks and there are four pages describing on how the colours and shapes should be used.
Channel 4 is different from Twitter and I Heart NY because it has it's own bespoke typeface, a unique font that has been created for the company. The font they specify is Horseferry Medium, used for the program title and Chadwick Medium, used for all the other information such as TX details, sponsorship and other tags.
The Red Cross
The Red Cross is an example of a brand that needs to be globally recognised so the brand guidelines for it are very simplistic in fact it is a one page PDF that explains every aspect.
NHS
The National Health Service is a brand within the United Kingdom. It's not as simplistic as The Red Cross because of it's wide use over the country and the brand can go over smaller businesses such as dental practices and surgeons.
There are many categories within the NHS's brand guidelines such as:
Colours
Fonts
Imagery
Naming principles
NHS logo
Organisational logos
Partnership branding
Partnership logo
Primary care logo
Service branding
Suppliers of branded items
Tone of voice
Visual style, graphic devices and straplines
Who can use the NHS identity?
Who cannot use the NHS identity?